School
SFT 2023 - Lectures on Statistical Field Theories
Feb 06, 2023 - Feb 17, 2023
Abstract
The aim of the school is to bring together PhD students with interests in low-dimensional quantum field theory, conformal field theory and integrable models, and their applications to statistical mechanics and condensed matter systems, and to help them building a solid and specialized background on these subjects. The school provides sets of postgraduate lectures covering introductory topics as well as recent developments in the field.
Lectures will be scheduled four hours each morning, for a total amount of about forty hours, over two weeks. Presentations will be given on the blackboard. The afternoon will be devoted to exercises, study, and discussions with lecturers and senior participants. A desk and standard research facilities will be provided to all participants.
The school can admit up to forty participants. Financial support for accommodation expenses may be provided, upon request.
The courses can be included in the the Ph.D. curricula of Italian Universities and abroad. If necessary, a final exam on the courses can be taken.
Topics
Denis Bernard
(LP, CNRS and ENS, Paris):
Balades around quantum stochastic processes (for and by amateurs)
Anna Minguzzi
(LPMMC, CNRS and Universite Grenoble Alpes, Grenoble):
Strongly interacting one-dimensional systems under confinement: exact solutions
Lorenzo Piroli
(IPM, ENS, Paris):
Quantum-circuit models for many-body physics out of equilibrium
Balt van Rees
(CPHT, CNRS and Ecole Polytechnique, Saclay):
Conformal field theory and the bootstrap
Francesco Zamponi
(LP, CNRS and ENS, Paris):
Introduction to the dynamics of disordered systems: equilibrium and gradient descent
Previous editions




Organizers
Pasquale Calabrese (SISSA, Trieste)
Jerome Dubail (University of Lorraine, Nancy)
Fabian Essler (University of Oxford)
Cristiane Morais-Smith (University of Utrecht)
Andrea Trombettoni (University of Trieste)
Jacopo Viti (INFN, Florence and IIP, Natal)



Advisory board
Denis Bernard (ENS, Paris)
Andrea Cappelli (INFN, Florence)
Filippo Colomo (INFN, Florence)
Giuseppe Mussardo (SISSA, Trieste)


Advisory board
Denis Bernard (ENS, Paris)
Andrea Cappelli (INFN, Florence)
Filippo Colomo (INFN, Florence)
Giuseppe Mussardo (SISSA, Trieste)


Local organizer
Andrea Cappelli

Contact
andrea.cappelli@fi.infn.it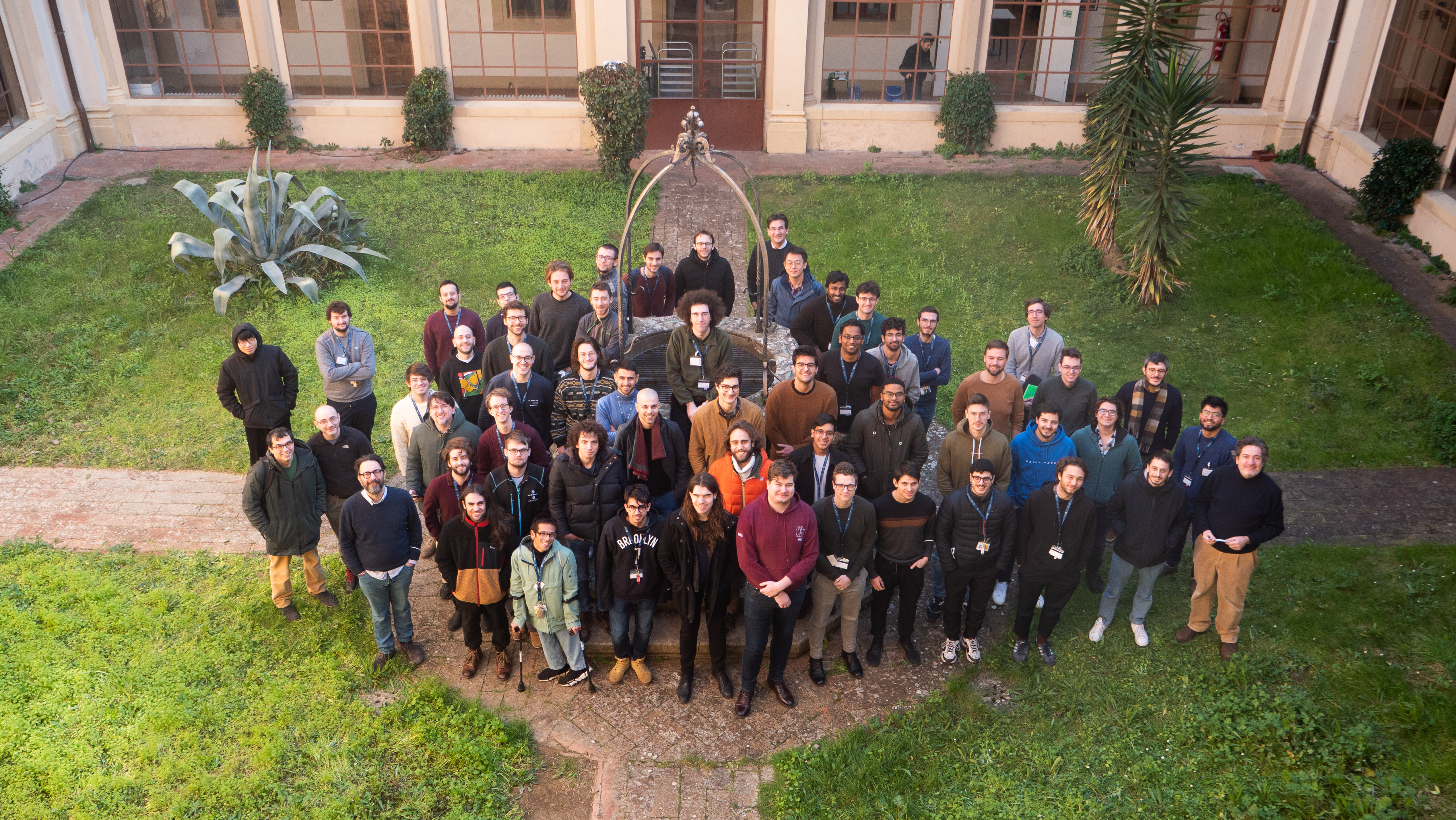 Talks
Date
Speaker
Title
Type
Useful Links
Feb 06, 2023 - 09:00-10:50
Registration
Introduction
Feb 06, 2023 - 11:10-13:00
Balt van Rees
Conformal field theory and the bootstrap
Lecture
Video
Feb 06, 2023 - 14:30-16:00
Gong seminar
Round Table
Feb 07, 2023 - 09:00-10:50
Denis Bernard
Balades around quantum stochastic processes (for and by amateurs)
Lecture
Video
Feb 07, 2023 - 11:10-13:00
Balt van Rees
Conformal field theory and the bootstrap
Lecture
Video
Feb 07, 2023 - 14:30-16:00
Discussion
Discussion
Feb 08, 2023 - 09:00-10:50
Balt van Rees
Conformal field theory and the bootstrap
Lecture
Video
Feb 08, 2023 - 11:10-13:00
Denis Bernard
Balades around quantum stochastic processes (for and by amateurs)
Lecture
Video
Feb 08, 2023 - 14:30-16:00
Leonardo Fallani (LENS Florence)
Strongly interacting lattice fermions: flavour-dependent Mott localization and universal Hall response
Seminar
Feb 09, 2023 - 09:00-10:50
Denis Bernard
Balades around quantum stochastic processes (for and by amateurs)
Lecture
Video
Feb 09, 2023 - 11:10-13:00
Lorenzo Piroli
Quantum-circuit models for many-body physics out of equilibrium
Lecture
Video
Feb 09, 2023 - 14:30-16:00
Discussion
Discussion
Feb 10, 2023 - 09:00-10:50
Balt van Rees
Conformal field theory and the bootstrap
Lecture
Video
Feb 10, 2023 - 11:10-13:00
Lorenzo Piroli
Quantum-circuit models for many-body physics out of equilibrium
Lecture
Video
Feb 13, 2023 - 09:00-10:50
Lorenzo Piroli
Quantum-circuit models for many-body physics out of equilibrium
Lecture
Video
Feb 13, 2023 - 11:10-13:00
Balt van Rees
Conformal field theory and the bootstrap
Lecture
Video
Feb 13, 2023 - 14:30-16:00
Discussion
Discussion
Feb 14, 2023 - 09:00-10:50
Anna Minguzzi
Strongly interacting one-dimensional systems under confinement: exact solutions
Lecture
Video
Feb 14, 2023 - 11:10-13:00
Lorenzo Piroli
Quantum-circuit models for many-body physics out of equilibrium
Lecture
Feb 15, 2023 - 09:00-10:50
Francesco Zamponi
Introduction to the dynamics of disordered systems: equilibrium and gradient descent
Lecture
Video
Feb 15, 2023 - 11:10-13:00
Anna Minguzzi
Strongly interacting one-dimensional systems under confinement: exact solutions
Lecture
Video
Feb 15, 2023 - 14:30-16:00
Discussion
Discussion
Feb 16, 2023 - 09:00-10:50
Lorenzo Piroli
Quantum-circuit models for many-body physics out of equilibrium
Lecture
Video
Feb 16, 2023 - 11:10-13:00
Francesco Zamponi
Introduction to the dynamics of disordered systems: equilibrium and gradient descent
Lecture
Video
Feb 17, 2023 - 09:00-10:50
Anna Minguzzi
Strongly interacting one-dimensional systems under confinement: exact solutions
Lecture
Video
Feb 17, 2023 - 11:10-13:00
Francesco Zamponi
Introduction to the dynamics of disordered systems: equilibrium and gradient descent
Lecture
Video
Feb 17, 2023 - 14:30-16:00
Discussion
Discussion